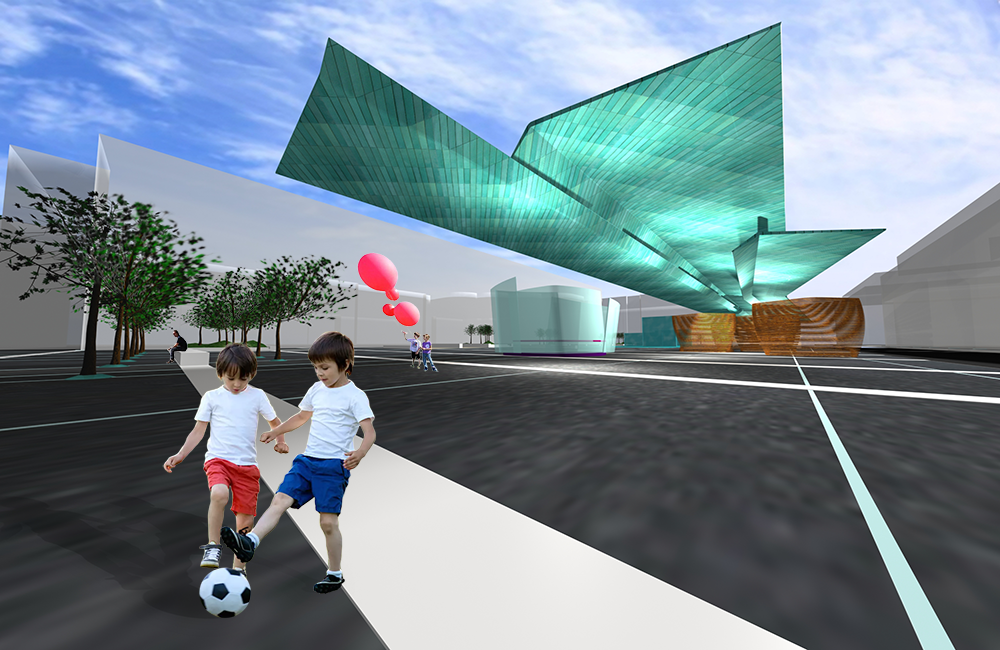 De Gregorio Henriksen Architects
Visions
Taby Square is today characterized by being a large open space surrounded by quite anonymous buildings: It is our intentions to
– create square that can both give space for gathering big crowds but also give room for more intimate activities
– create a square that functions at all times of the day and the year with many different facilities for all age and social groups
Idea
To fulfil our intentions with the new square in Taby, we have chosen to divide the square into 3 activity zones:
-an open central zone for bigger gathering activities such as entertainment and play (concerts, dance, theatre, fashion shows, circus and sport and so on)
-a more intimate zone for play ground, game areas, cafés and relaxation activities
-a covered zone for a market arcade for market activities, flea market, art exhibitions and as general gathering space
The square is divided up in 3 horizontal ¨strips¨ to express the zones.
The broadest ¨strip¨ will contain the main gathering area with a pool with fountain sculptures made of glass blocks. The pool will at wintertime act as an ice rink. In the south-eastern end of the open square there will be several plinths for sitting. The other end of the space will be left open for gathering activities.
Along the sunny façade of the shopping centre a smaller ¨strip¨ will contain the more intimate and quiet ¨rooms¨ for play and relaxation, and from here it will be possible to follow the activities on the main space.
Along the trafficked street a third ¨strip¨ will contain a covered arcade with pavilions for various market and café activities. The gallery will form a weather protected connection between the two ends of the square.
Paving, materials, street furniture and lighting
The new square appears as a big continuously surface though divided up into three activity zones. This surface is sliced up in a long row of stripes running through the square that divides the big space into smaller areas and they act as the basis for the street furniture through-out the square. From these stripes, made of a natural stone, different kind of street furniture such as benches, plinths and divisions can grow and form activity platforms. In between these divisions various small spaces occur for different play and relaxations offers. The general paving consist of swedish granite that can stand the weather conditions and all kinds of use. Wooden pavilions and the arcade in a metal construction will add to the textural richness.
The lighting scheme of the square will be multifaceted. Several dynamic lighting lines will run through the floor of the square and will provide a changeable atmosphere at different times of the day and the year. Inbuilt lighting in the street furniture will create a more intimate feeling. Also the pool, the trees and the roof construction of the arcade will be indirect lightened up from below.