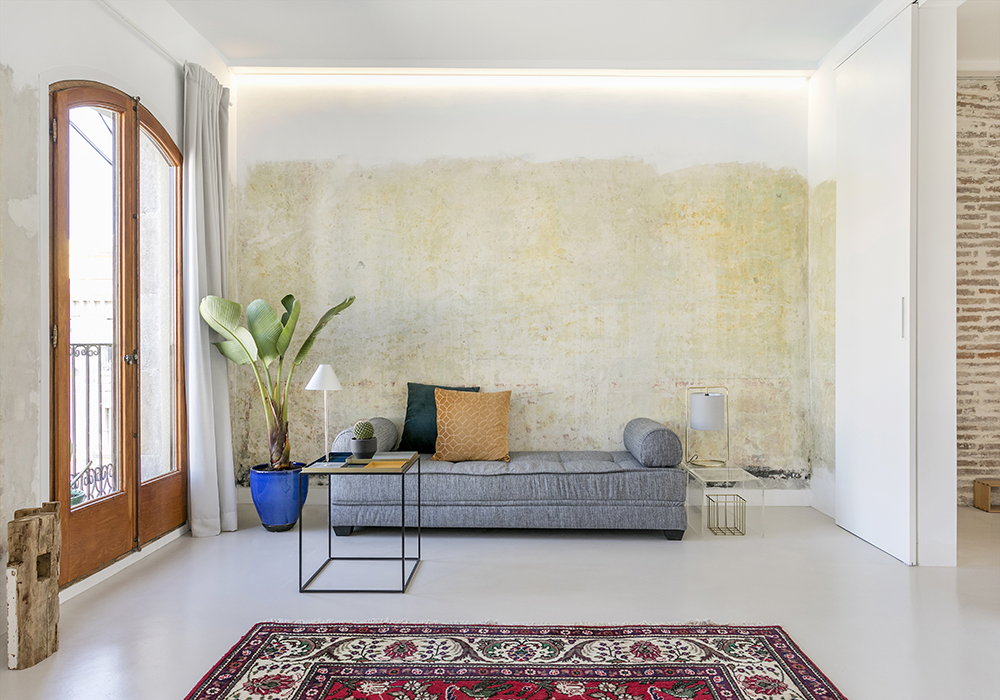 The Flat Above "el Mercado de la Boqueria"
De Gregorio Henriksen Architects
Tracing the old time – La huella del tiempo
This 52m2 apartment is located in the very center of Barcelona right next to the Rambla.
It is located on top of the emblematic Mercat de la Boqueria food market and has spectacular views to the Collserola and Tibidabo hills.
The flat has been transformed after several alterations and different materials has been layered and added on during the time.
_ The intervention focused on research of spacial simplicity and openness. The new lay-out of the flat consists of the functional central core containing entrance, bathroom, kitchen and two big rooms, one east facing the street and one west facing the market, that have equal access to these facilities.
_Free Architecture program. The entire space in general doesn't have predetermined use, divided only by four sliding wall/doors that allow to shape and adapt the space to the different needs. The two rooms can work as one flat or two individual flats, each room is big enough so they can be subdivided into two spaces.
_Tracing the old time. During the renovation, scraping down layers of the past time from the walls, original plaster and colours were found. We decide to implement the project restoring the raw plaster and the raw stone walls to emphasize the unfinishing feeling, which was our aim with the project.
 The exposed walls surfaces became the footprint of the past times and the hierarchy of the old/not finishing textures in contrast to the new sleek materials.
The contemporary bathroom, kitchen and micro cement flooring enhance the original features like wall surfaces and the wooden double doors.